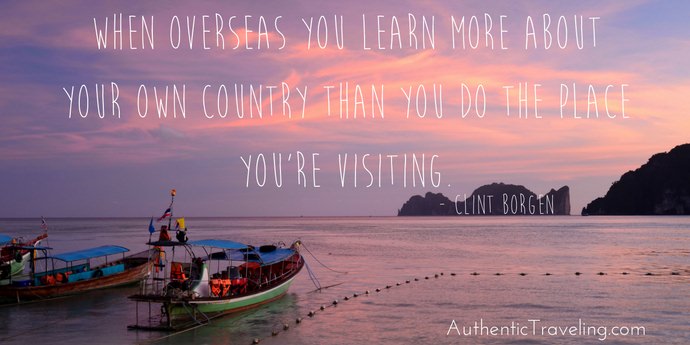 This week's travel quote comes from Clint Borgen, an American entrepreneur, humanitarian, and thought influencer. He is best known for being the founder and president of the Borgen Project, an organization that works to bring U.S. political attention to severe global poverty.
Borgen spent the late '90s volunteering at Kosovo refugee camps, where he saw firsthand the effects of war and genocide. Horrified, he committed himself to finding a way to reduce poverty-related suffering. After graduating college in 2003, the Borgen Project was born. Using just his personal computer and the money he made working on an Alaskan fishing vessel, Borgen grew this organization into one of the most powerful anti-poverty organizations in the United States.
The quote—"When overseas you learn more about your own country, than you do the place you're visiting"—explains a lot about Borgen's mission in life. While abroad, he realized that the United States could play a greater role in reducing global poverty, and making this a reality is his mission.
Paradoxically, nothing makes you reflect on where you come from quite like leaving home. Exposing oneself to different ways of thinking and living promotes introspection and reflection. The greater the culture shock, the better the opportunity for growth.
I have experienced this first hand. On a recent trip to Macedonia I saw poverty on levels I had never encountered before. Walking on the outskirts of the capital city of Skopje, a local friend and I stumbled across gypsy migrants who were rummaging through the smoldering ashes of a recently burned down home. As smoke rose into the sky, this group of economic outsiders* grabbed ahold steaming pieces of furniture and soot-covered articles of clothing. Men and women, young and old, all working together to salvage some sort of value from a recent misfortune.
At first, I was shocked by the scene. We were only a few minutes from the heart of a modern European capital, and this looked like something out of a post apocalyptic sci-fi film. But then I thought about some of the most economically-challenged places in the United States: Detroit; Milwaukee; Baltimore; Fresno. I remembered seeing reports of the news about the poorest neighborhoods in these cities—reports that illustrated how large tracts of downtown land had now become virtual ghost towns, home to overgrown fields, vacant buildings, and abandoned cars.
While the cause of such destitution varies, willful ignorance only makes the problem worse. And whether conscious or otherwise on my part, I hadn't ever seen such places in the United States. But here I was, experiencing—if only for a moment—the reality that many of my fellow countrymen call daily life. It had taken traveling halfway around the world for me to really see the kind of economic tragedies that were happening in my own backyard.
I don't mean to have a negative tone—for me, this experience was far from that. Rather, I felt as though I finally understood how things were. And with that came the power to make a difference.  See things as they are, not worse than they are. Since returning to the States, I've made a concerted effort to give back to those in my community who are less fortunate. In particular, I've made a commitment to mentoring local youths.
During the holiday season it can be easy to think first and foremost about ourselves—what did we get for Christmas, what is our New Year's resolution—but we should never forget to give back to those around us. Thank you travel for reminding me of this. It's a lesson I won't soon forget.
*My intention is not to single out Macedonia here. In fact, the government guarantees political representation for the Roma people—they even have their own politicians—which is more than they have in many other countries.
I publish a new travel quote ever week, right here. Do you have a particular one you'd like us to feature in the future? What do you think about this quotation? Let us know in the comments below!