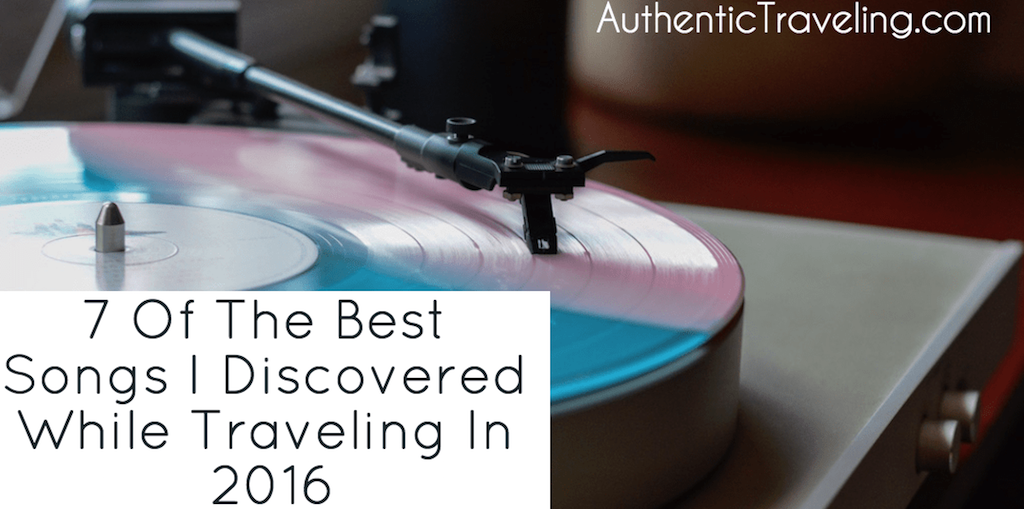 Uncovering new music is one of my favorite parts of traveling. Whether cruising in your car, chilling in a cafe, or dancing at a club, you never know what tunes you will hear. And when you listen to them later on, you're immediately transported back to the emotions you had the first time you heard them. Below are the 7 of the best songs I discovered while traveling in 2016 (and the stories behind them).
Imany - Don't Be So Shy (Filatov & Karas Remix)
Seemingly straight out of the 80s, this was THE song of 2016 for me. I first heard it while driving in a rented Peugeot 308 just outside of Vík, Iceland. I'd spent the morning braving the rain soaked black rock beach of Reynisfjara. My feet hurt, I was cold, and I was starving. Yet Don't Be So Shy's infectious beat told me everything was going to be OK.
Kungs & Cookin' On 3 Burners - This Girl
Zagreb, Croatia; sipping a shitty cappuccino in a posh cafe; trying to regain use of my liver after a late night out. This is how I first heard This Girl. Music always seems to be louder when you're nursing a hangover, and that was certainly the case here. Still, the song's baseline quickly had me rocking out and ready to go.
Shawn Lee's Ping Pong Orchestra feat. Nino Mochella - Kiss the Sky
Seattle, Washington is best known for grunge music, coffee, and rain—amazingly, none of which I had on a recent trip there. Instead, I found this song while sipping a Rainier beer (don't bother; it's not good) in an underground dive bar in the city's Capitol Hill district. 
Fleet Foxes - Mykonos
Growing up in the upper Midwest, late-night Southern California beach parties were something of a myth. When summer nights rarely got above 60 degrees, the idea that you'd voluntarily hang out by the water listening to music and gazing at the stars seems far fetched.  Yet there I was—on a beach just outside San Diego—when I heard Fleet Foxes' Mykonos. And although I was half a world away from the Greek Islands, I immediately felt as though I'd been transported back to their windswept mountains, singing, "You go whoever you go today. You go today."
A R I Z O N A - I Was Wrong
I was in a cab heading back to my AirBnB in Dublin, Ireland when I heard I was Wrong. At first I didn't think anything of it, instead concentrating on my phone, but when the beat started to kick in, I perked up. For whatever reason, the song's theme—belated apologies—seemed appropriate to me at that moment. There's something about being far away from home that allows you to more easily reflect upon your past. When I got back, I wrote an apology email to an old friend. We've since made amends.
The Strumbellas - Spirits
Few things are more inspiring than seeing the last participants in a race cross the finish line. These people aren't blessed with incredible athletic ability; they aren't racing regulars. Rather, they've had to exert every bit of emotional and physical energy to get to the end. I first heard Spirits while watching such a scene at the Ironman 70.3 Triathlon in Pula, Croatia, which ends at the center of a 2,000 year old Roman amphitheater (that happens to have incredible acoustics).
St. Lucia - Love Somebody
It's amazing how different the vibe of a city can change when the sun goes down. During the daytime, Skopje, Macedonia felt like a place being ripped apart slowly by disparate cultural traditions—the near east vs. the ancient west. Yet, at night everything came together. Throughout the outdoor club within which I found myself, hundreds of heads—belonging to people from all different ethnicities and religions—bobbed up and down to the beat of St. Lucia's Love Somebody. Music has an incredible power to unite, and I saw it first hand that evening.
What were your favorite songs from 2016? Do you have any classic memories that you can tie to music? I'd love to hear in the comments below!