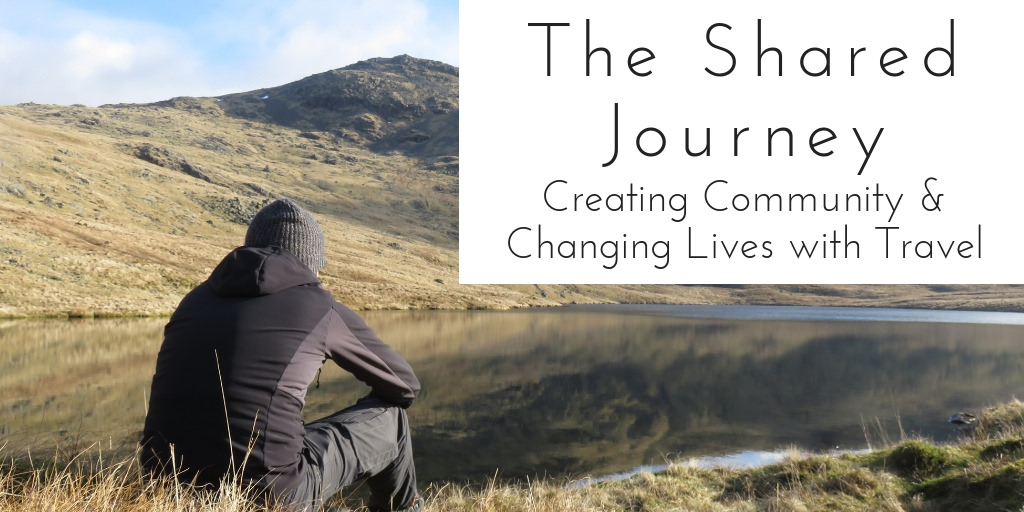 Part of the series The Journey Within: Stories of Personal Growth Through Travel
Using his website, Lossul.com, Elliot Windmill has created a thriving online community based on a shared love of travel and personal development. Here's his story.
Just as every great journey has a starting point, so too does every great traveler have a background. What's yours, Elliot?
I was 14 years old when things really changed.
The year was 1992 and I had left England to venture out on a road trip around Arizona, California, and Nevada with my family. We were living out of suitcases and ending each day in a new place. Each and every morning I got to see a small town or major city disappear into the rear view mirror. It was an exhilarating experience and it ignited the flame of my inner wanderer.
When we arrived in Los Angeles it was only a matter of months after the riots. I was massively into rap music back then, and at the time, much of its content was fueled by the beating of motorist Rodney King and the subsequent trial of the four police officers involved.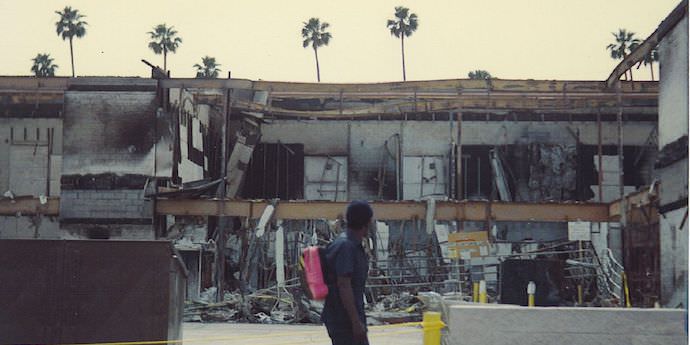 After the not guilty verdict was announced and Los Angeles went up in flames, I felt extremely passionate about the situation, despite the fact that my own life and culture were so far removed from the realities to which I was listening.
And so when we drove through LA and along one particular stretch of road where I saw some of the devastation and burnt out buildings, it was no longer just some words in a song or a short piece of news footage that was followed by the weather report; it was in fact a shocking reality that had impacted so many lives and this suddenly made the world seem a much more real place to me. Yes, I was a complete outsider to the environment that I found myself in, but as a 14 year old kid who was still finding his place in the world, this experience proved to be extremely influential during my informative adolescent years.
It would be another 12 years until I pulled on a backpack and set off in search of adventure in Thailand. But without doubt, it was that trip in 1992 that fueled my wandering nature, my thirst for adventure, and my desire to really understand the realities of the places that I visit; not just the superficial and glossy images that are often sold to us as tourists.
So you left your England in 2004 to backpack in Thailand. What inspired that journey? Why did you choose that moment to leave home?
The reason I chose to visit Thailand is a little bit cheesy and cliché. A couple of weeks after my curiosities had been whet by a travel magazine, The Beach opened at my local cinema and I decided to go see it. Seeing the beauty of Thailand and the portrayal of the backpacker lifestyle was intoxicating for me. I then read the book which turned out to be even better than the movie, and my head had been well and truly turned.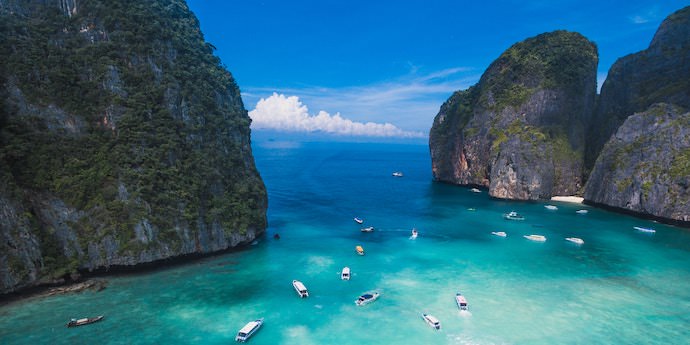 At the same time, there was something in the culture that appealed to me—a deeper truth. It was like there was an inner calling which couldn't be explained. Have you ever had that feeling where you feel you were born in the wrong place and at the wrong time? I often do, and I think that's why my eyes are constantly looking towards the horizon in search of something new.
When I went to Thailand, I felt like I'd somehow returned home. Growing up, it was always extroverted personalities that were celebrated, whereas I've always been a little more introverted. I'd rather do the listening and save my words for when they're needed.
Also, in the west life success seems to be based primarily upon how much money you have and how many things you own—success is an external thing. But I believe that the true definition of a successful life is one that has been lived with joy and fulfillment and which has impacted other people in a positive way. Although I'm careful not to idealize anywhere, there's no doubt that Thailand has a culture that feels far more in tune with this than the UK.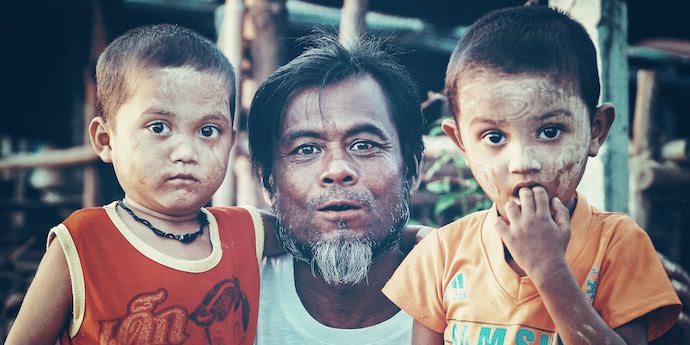 It sounds like your time in Thailand helped you to realize a number of truths about yourself. How did traveling solo contribute to these realizations?
It helped in a big way. When I left, I felt I needed time to really get to know myself and the only way I could do that was by being alone in a place where nobody knew me. I'd been caught up in the wrong relationship for years and I'd lost sight of who I was and what I wanted. Heading to Thailand was about purging this negativity and then rebuilding my life based upon my absolute inner truth.
I experienced some jaw-dropping moments that still sit with me to this day, I saw unimaginable beauty, and I made new friends that are still in my life. But I also experienced fear, anxiety, and loneliness. I got ill a couple of times and suffered heat stroke. I even got robbed.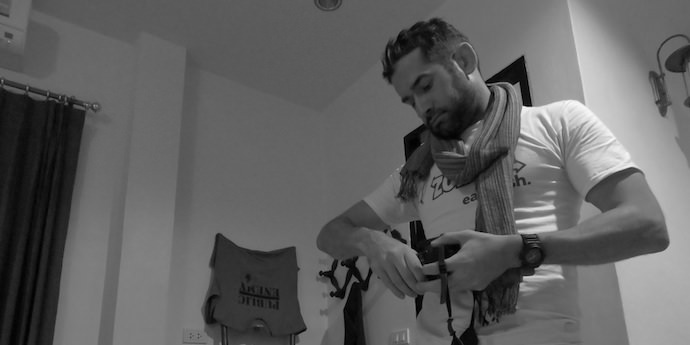 Travel is not a spectator sport and sometimes the exhilarating highs are interspersed with less-than-pleasant moments, as you described. At the same time, these are often the experiences that most help us to grow. How did these challenges and obstacles shape your time abroad?
Yes, traveling isn't perfect all of the time. The same worries and insecurities that exist at home will exist on the road too. But the experiences you have and those moments of pushing your boundaries and sitting outside of your comfort zone; they are the things that allow you to learn and to be constantly growing. Traveling teaches us patience, resilience, empathy, tolerance, and self-awareness.
But beyond this, the biggest lesson of all is to understand that the world is our teacher and is a playground for learning. When we grow up in one place and we never see anything beyond it, we can often come to believe that's exactly the way things should be. And quite scarily, we can also come to believe that's how the rest of the world should be. But when you've travelled to new places and have witnessed new cultures, new customs, and have seen the different ways in which people live; you can't help but ask questions. This could be about the way people interact, diets and lifestyles, and the way in which society works and how they treat their elders.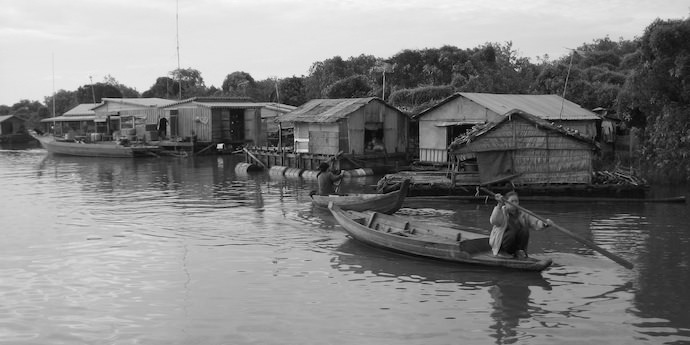 The more we're exposed to, the more questions we can ask. We see things that are done better in other countries, and we also see things that make us grateful for what we have back home.
But when we've learnt those lessons we can then implement change, and we can also achieve a deeper sense of gratitude. Ultimately, we can drastically improve the quality of our own lives. After all, there are currently 196 countries in the world, so who says that the one we're from has everything right?
I think that desire to find a deeper truth is an underlying reason for much of our travels. What did you discover in Thailand? How did you implement these discoveries into your life?
I didn't come home with a new mantra that I'd created or a defined set of rules that I needed to live by; it was more the realization that up to that point of going traveling I'd not really discovered who I was or what I wanted on an individual level.
I was still young and in those earlier years I'd changed who I was in order to keep a partner happy, and I'd not had the courage to form my own beliefs and opinions and to stand by my own convictions in life. To put it bluntly, I didn't have any balls.
But traveling alone in a strange and unfamiliar land for two months allowed me to discover my inner strength. When you're in a situation like that, you have no choice.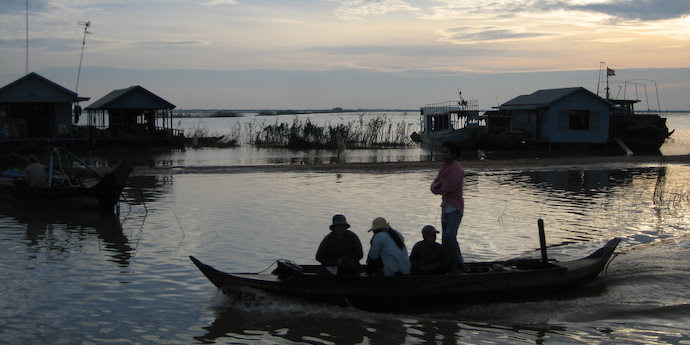 By the time I came back home I realized that I was an individual and that I had a voice, and I'd developed the self-confidence to believe that what I felt and what I wanted really did matter, even if only to me. To discover what those things are and to then live each and every day following them—that is what it means to live your inner truth.
Is there one experience in particular that stands out to you as being the event that took you from your past being to your current?
Although I'd love to be able to turn around and say that there was one experience in particular that changed everything for me and where I turned around and suddenly said "wow, I'm a new man now", the truth is that there wasn't. It was more a culmination of everything.
I went through a series of highs and lows, one after the other—some of which built me up, and some of which kicked me right down to the floor. At the time I just went with it and reacted to each situation as I needed to, but what you don't realize at the time is that all of these experiences are slowly shaping you, subconsciously.
It's like in The Karate Kid where Daniel is painting the fence, sanding the floor, and doing his wax-on, wax-off thing. At the time he has no idea what it's all about, but once he gets into that next fight he finds that all those things come back instinctively, like muscle-memory. Slowly but surely, it taught him.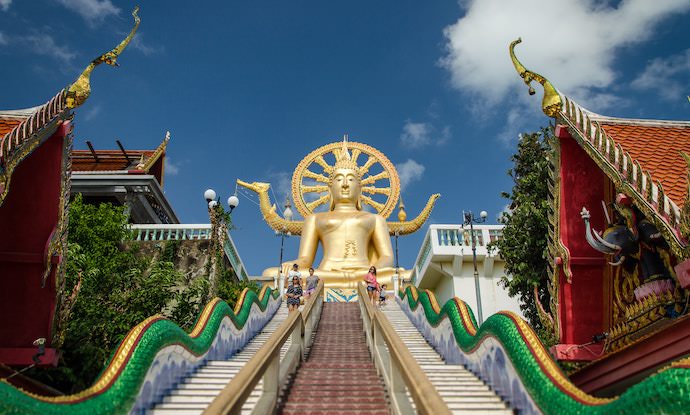 And that's how it was for me. It wasn't until I returned home and back into the familiar that I realized just how different I was. My priorities had changed and new personality traits came through. I had a deeper sense of gratitude, and was a calmer, patient, and more content person. Things didn't seem to upset me in the same way that they used to.
If you can travel with an open mind and allow yourself to soak up every experience—both good and bad—traveling really will change your life.
It's clear that travel has been incredibly transformative for you. How have you built upon this in your day-to-day life?
Traveling is not just a thing that you do. It's also a state of mind. When we travel, we become a different person. We open ourselves up to new ideas. We see things differently. We become more curious about the world and the people who inhabit it. We become more adaptable, blending in with our new temporary environments.
Sometimes, we end up preferring the person that we become while we're on the road, so it can be deflating when we come back home and find ourselves blending slowly back in.
And this is where the challenge lies; in finding a way to fit back into our home life and working environments without losing sight of all that we became while we were traveling.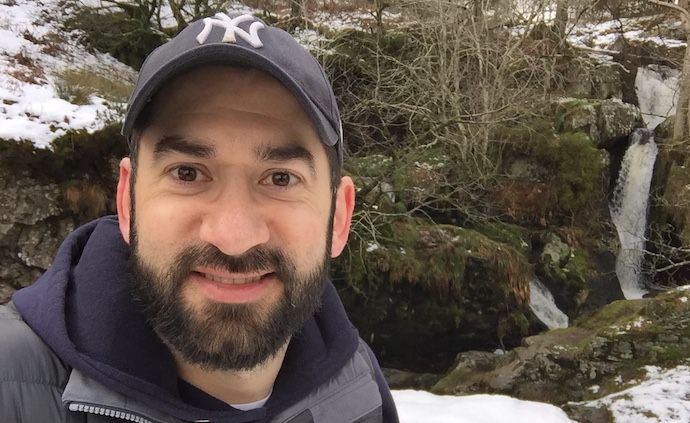 For me this means continuing to explore new places and meet new people, to have ongoing adventures, to tell my stories, to try to become the best version of myself, and to explore the deeper subjects surrounding life itself.
And this is exactly why I created Lossul.com; firstly to have an outlet for my passion of travel, life, and experience, and also to enable me to become fully immersed in my love of writing. And secondly, to have something in my life that helps me to stay focussed, that gives me a means of pursuing my dreams, and more importantly, which keeps me accountable to the promises that I've made for myself.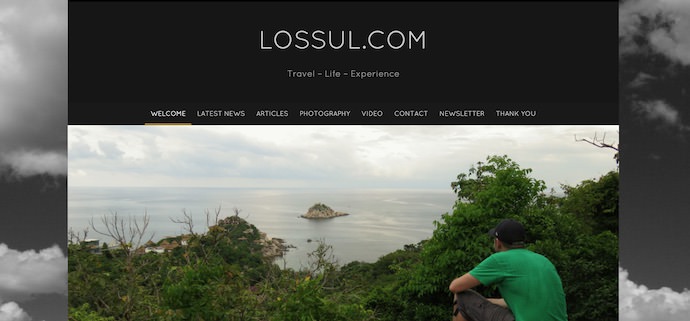 Lossul.com is all about having fun, traveling, and pushing beyond your comfort zones. It's about opening your mind to new ideas, creating adventure out of nothing, and finding excitement in the mundane. It's about finding all the hidden gems of the world, whether that's on the other side of the world or right on your doorstep. It's about becoming the best version of ourselves and ticking our own boxes in life rather than the boxes that are laid out for us. And it's about people and creating a community; allowing like-minded people to get involved too, whether that's through the site, through social media engagement, or even through the 'people' interviews that I run.
How has working on Lossul.com changed you? What lessons have you learned from the project?
I wouldn't say that Lossul.com has changed me as such, but what it has most definitely done is keep me accountable.
When you only have yourself to answer to it can be tempting to let deadlines slip or to even change the goalposts a little. With my website, however, if I say I'm going to be doing something then I know I absolutely have to do it.
For example, I recently published a feature length four-part travelogue about Iceland and when I first started writing it I wasn't feeling particularly motivated; it would've been so easy to let it slip. But I'd promised my readers that a full feature would be coming and so there was no way I was going to break that promise; it kept me focussed, it enabled me to create the time I needed, and it pushed me to keep writing. In the end it turned out to be one of my favorite releases to date.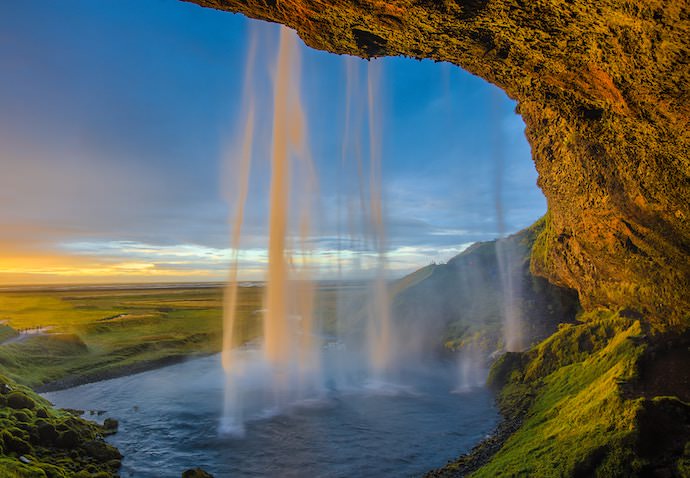 But one realization that I had quite early on was that while it was great to be writing and to be sharing this with my readers, it somehow felt a little bit self-indulgent. Blogging is a personal endeavor and so although it's inevitable that the focus is on the writer and their chosen subject, I didn't like thinking that the site would solely be about me; I wanted other people to be involved and I wanted their stories to be heard too.
How have you integrated other people's stories into Lossul.com? What have you learned from speaking with other travelers?
I created the 'people' section of the site, where I share interviews of inspirational people with my readers.
Creating these often forces me to sit back and reflect before asking the next question, and as such, it helps me to understand things about myself and has allowed me to gain something from each and every one of the people I've interviewed.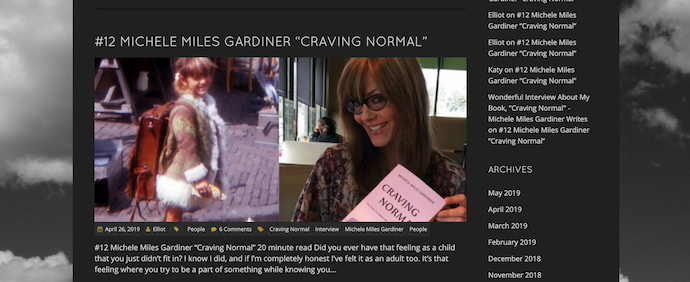 For example, I learned more about the joy of making people smile from Charlotte, the busker from London. I learned about the benefits of short term travel from Yves and Cagla, the importance of taking care of your body and mind by Tia, and Alyana taught us that it's never too late to change the direction of your life.
I was taken on a deeply emotional journey by Maryanne as she shared her story of loss, grief, and ultimately, of finding hope. Jonathan reinforced my love of creating adventures by sharing the story of his own 1500 mile bicycle journey that he was about to set off on. And of course the interview with you, Andrew, highlighted just how important integrity and authenticity really is.
While we can all seek to make our own mark on the world, it's collectively that the biggest impact can be made.
How has your audience contributed to this journey?
The readers really help to make the site what it is. I take every email and comment seriously, I always listen to any feedback that I'm given, and I value every single person that engages with me. There are some readers that have been with me right from the start and it blows my mind to hear that the site means as much to them as it does. They know who they are and I'm sending a huge thank you their way.
If you had one piece of advice to give an aspiring traveler, what would it be?
I know you asked for one, but two things come to mind.
First, open your mind. When you initially head out into the world you will have preconceived ideas about what may happen, what you'll find, and even about who you are.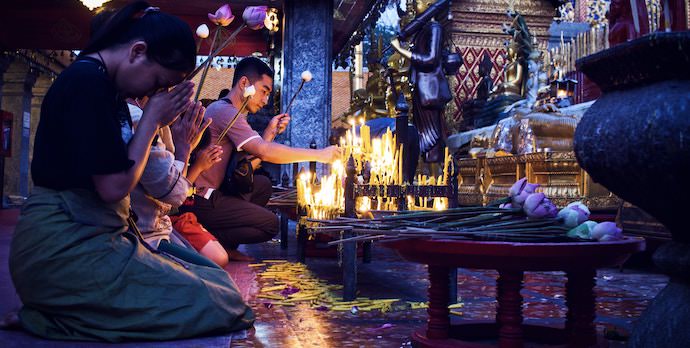 But to get the very best experience from traveling you must embrace change and become adaptable. Keep your mind open to all that you could become and all that you could experience, and let go of that rigid view you have of the world. As Bruce Lee said, "Be like water."

And secondly, forge your own path. So many people head out into the world and follow a generic path that has already been laid out for them by the majority, and very often they go to these places just because they're the 'must-see' places. Before you do that, ask yourself what YOU want to see. What kind of places are likely to speak to YOU?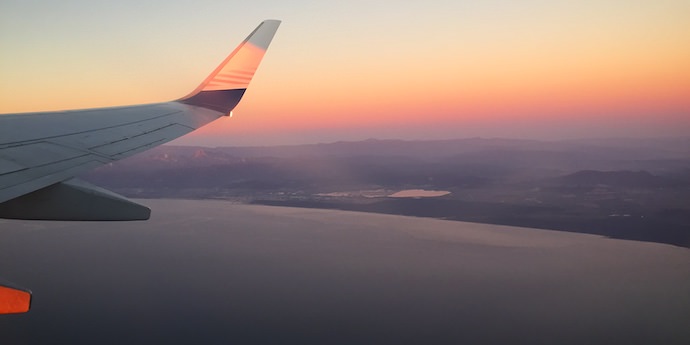 What is good for one person is not necessarily good for another. As you travel more and gain in experiences, you'll slowly work out what kind of traveler you are and what feels right for you.
Listen to your gut. Follow your instincts. Forge your own path.