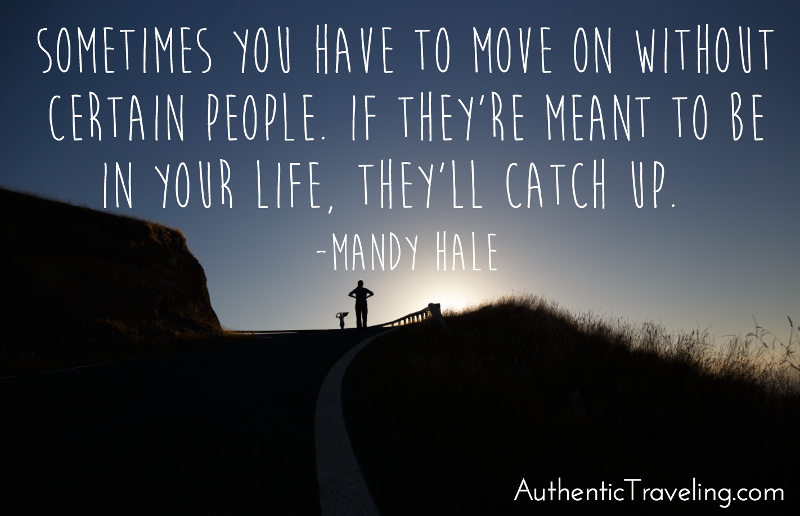 Mandy Hale, is an American blogger and a best-selling author. Known as The Single Woman, Hale is committed to helping others live independent, fulfilled lives.
This week's quote, "Sometimes you have to move on without certain people. If they're meant to be in your life, they'll catch up" is the perfect response to a problem that frequently plagues long-term travelers, nomads, and expats; namely, how to deal with the inevitable rift that occurs between the world you've left at home and that which you've created on the road.
As you already know, travel has a tendency to radically change who you are, to make you question all the assumptions that you once based your life on. Even the shortest of trips can have a major impact on your world view.
One of the most difficult parts about returning home is facing the reality that, while you may have changed a lot, your friends and family probably have not. They won't see things the same way you do, no matter how hard you try to convince them.
All of this is OK. Remember, everyone has their own life journey to take. Some people grow at a rapid pace while others barely change at all. You, through your travels, have taken the fast lane. You, through your adventures, have seen what is possible when you put your mind to it. Unfortunately, not everyone has the means nor the will to do what you've done.
You may need to let go of people who are growing too slowly or refuse to accept who you are. This is a hard decision, but ultimately worthwhile. After all, to reach your ultimate goals, you cannot stay weighted down.
Be the best person you can be, and provide a good example for those who are struggling to find themselves. Travel the globe, see new things, achieve your dreams. Hopefully this will rub off. After all, as Hale says, "If they're meant to be in your life, they'll catch up."
For more of Mandy Hale's wisdom, check out her website TheSingleWoman.net.
I publish a new travel quote ever week, right here. Do you have a particular one you'd like us to feature in the future? What do you think about this quotation? Let us know in the comments below!