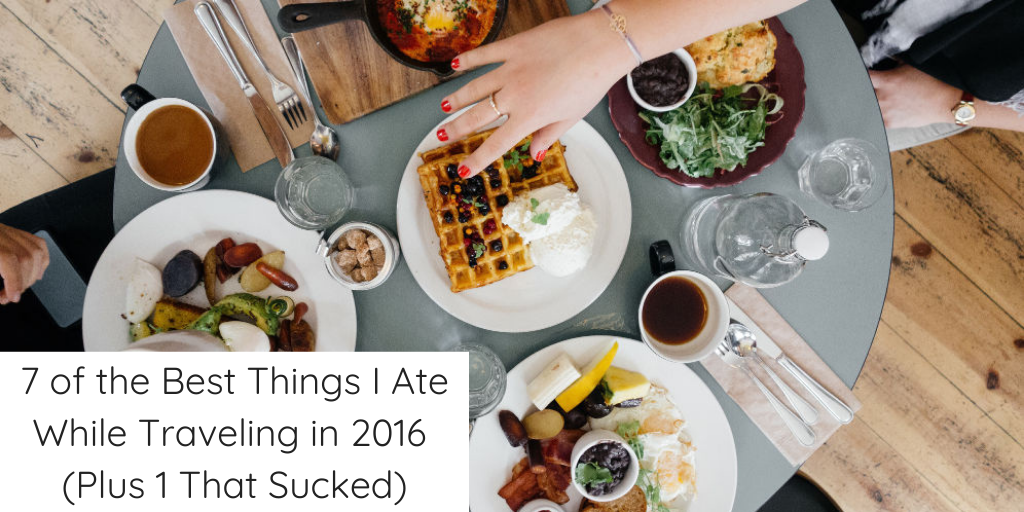 If you're like me, trying the local food is one of your favorite things to do while traveling. Fortunately, over the past year I've some incredible meals. Here are the stories behind 7 of the best things I ate while traveling in 2016—plus 1 that totally sucked (but was absolutely necessary)!
Flautas de Pollo
Raul's Shack — Encinitas, California
A simple building covered in white siding and a lime-green roof, Raul's looks more like a souvenir t-shirt shop than a culinary mecca. Yet appearances can be deceiving. Located just 40 miles north of Mexico, Raul's serves some of southern California's most authentic Mexican cuisine. I stopped her with some friends for some lunch after a morning spent walking the beach. Following my friends' advice, I ordered the Flautas de Pollo—deep-fried tortillas stuffed with chicken and covered in lettuce, sour cream, and cheese served in a styrofoam box. Oh. My. God. So, so good.
Icelandic Lamb Stew
Visitor's Center Cafeteria — Gullfoss, Iceland
It was a cold, damp day (this was a trend during my trip to Iceland) when I walked into the Visitor's Center Cafeteria in front of Gullfoss—a massive, multi-tiered waterfall that attracts tourists from around the world. I grabbed a tray and got in line behind a pair of British pensioners. As the line attendant took their orders—two small salads, extra dressing—I thought about what I'd been told; order the Lamb Stew. Yes, multiple people swore that the Lamb Stew at this very cafeteria was THE best thing they ate the entire time they were in Iceland. Yet how good could it really be?
I got my first clue when I ordered. The line attendant responded with 'excellent choice', words not spoken to the British. I sat down at a table overlooking the falls and scooped into the bowl of steaming hot liquid. As I brought the spoon towards my face, I began to salivate at the smell of root vegetables and lamb. The first taste was incredible. Carrots, potatoes, celery, cabbage, and lamb combined into an almost heavenly bringer of warmth that seemed so right at that moment. I'm not sure how they did it, but they did. I must go back.
Shopska Salata
Friend's Home — Skopje, Macedonia
A warm smile and a fragrant kitchen has a way of instantly bringing joy to the weary traveler. After one missed flight, two lost bags, and a multi-hour commute into town, I couldn't have been happier to have walked through the front door of my friend Niko's home in Skopje, Macedonia. And to my stomach's delight, we were seated at the kitchen table within minutes. His mother had been busy in the kitchen for hours, and now we were about to enjoy the results of that labor.
With apologies to all the dishes that came thereafter, the first thing I ate at that table is the only thing I remember today. Shopska salata—a blend of tomatoes, mountain cheese, cucumbers, onions, and green peppers—was placed in front of me as soon as I sat down. I've tried my fair share of salads in the day, but this was by far the best I've ever had. Everything tasted so fresh, especially the tomatoes. A subtle pink in color, the variety from the Skopje area are known for their uncommon sweetness. Over the course of the next two weeks, I ordered shopska salata with almost every meal, but none of them could compete with the flavor of the first one I had in Macedonia.
Roasted Duck Liver
Kispiac Bisztró — Budapest, Hungary
This is the perfect example of why it pays to heed the suggestions of locals. Kispiac Bistrò was the only restaurant my AirBnB host said we had to go to. Again following his advice I ordered the roasted duck liver. Served over a bed of carrots, beets, and pea pods, the liver was unlike any I'd had before. Instead of the all-too-common iron flavor, this had a subtle taste that can best be described as bacon mixed with medium-rare steak. Naturally, I ate the whole thing rather quickly.
Grilled Sea Bream
Backyard of Friend's Parent's Home — Slovenj Gradec, Slovenia
I love fresh fish and I love eating with locals. So, when the opportunity arose for me to travel with a Slovenian friend to their hometown for a Sunday fish lunch I instantly said yes. After a 90 minute drive from the capital city of Ljubljana, we arrived in the sleepy alpine village of Slovenj Gradec. I was greeted by a series of hugs and the unmistakable smell of lit charcoal. Soon, we were standing around the grill in the back yard, beers in hand, watching as the fish slowly turned a golden brown color.
As my mouth watered, we spoke of life here—in particular, how things have changed in Slovenia since the disintegration of Yugoslavia. Our conversations continued as lunch was served. I bit into the soft flesh of the sea bream, seasoned with just a dash of olive oil and a squeeze of lemon juice. The fish's freshness—it'd been trucked in from the coast that very morning—was evident. I was in a foreign country, thousands of miles from my family, and yet, at that moment, I felt at home.
Roasted Pork Knuckle
Bratislavský Meštiansky Pivovar — Bratislava, Slovakia
Nothing pairs with beer quite like roasted meat. As such, I knew what I had to order when I arrived at the Bratislavský Meštiansky Pivovar in Bratislava, Slovakia. Made to order, it took about an hour for this dish to arrive (thankfully, I had a half-liter of beer to hold me over), but it was well worth it. Served over cabbage and potato dumplings, once I cut into the crispy exterior, the meat literally fell right off the bone. I may or may not have come back the following night to order the same thing.
Cjalsons
Ristorante al Monastero — Cividale del Friuli, Italy
This was by far the best thing I ate in 2016 was Italian. Located in the northern village of Cividale del Friuli, Ristorante al Monastero serves some of the most flavorful Italian cuisine I've ever had. In particular, I fell in love with cjalsons—pasta stuffed with pear and ricotta, and glazed with a sauce of prosciutto, butter, raisins, and parmesan cheese. Tasting more like a dolce than a primo piatto, it took all my willpower to not devour these pockets of deliciousness within seconds.
Bonus: The Worst Meal I Had in 2016
Hákarl and Dried Fish
[Location Redacted] — Reykjavik, Iceland
God, these really sucked. In fairness to the restaurant where I had this however, they warned me repeatedly that it wasn't going to be good. In fact, they refused to serve it to me without a shot of Brennivín a kind of Icelandic schnapps to hide the taste.
Hákarl is the fermented flesh of the Greenland shark that has been hung to dry for four to five months. Once described by the celebrity chef Anthony Bourdain as "the single worst, most disgusting and terrible tasting thing" he had ever eaten, it is not for the faint of heart. While I didn't find the taste that bad—I'd best describe it as bland—the smell was absolutely dreadful. In fact, the stench of ammonia that oozes from it is so strong that many restaurants refuse to serve  the dish at all. My nostrils were still burning over 20 minutes after I quickly downed the three cubes of Hákarl I'd been served.
While not quite as pungent, the dried fish wasn't delicious either. Best described as a scale-covered fish jerkey, it required a lot of butter to make it flavorful and even more chewing to make it go down. And yet, I'd recommend that anyone visiting Iceland these local specialities. After all, trying bad food only makes the good stuff that much better!
Do you have any good food-related travel stories? Share them in the comments below!