Transform Your Life As You Travel
It's not a fantasy. You really can become happier and healthier while traveling.
Here's how it works.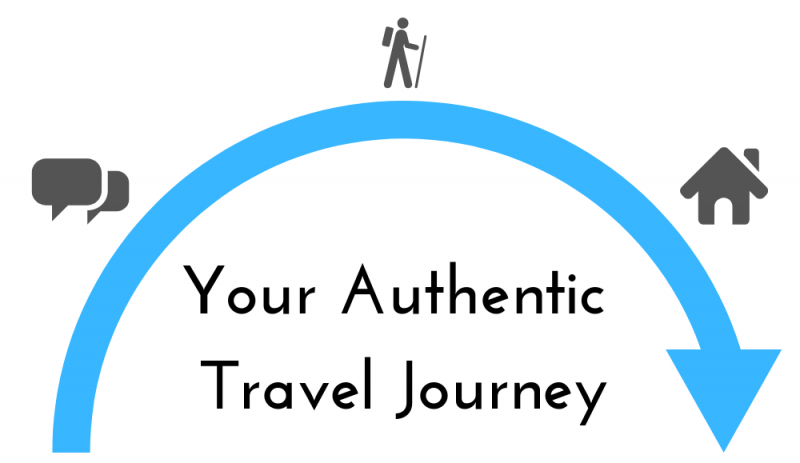 1.Find Your Start
Using our proprietary Be Authentic Traveler System we identify your core strengths, uncover opportunities for growth, and highlight potential obstacle.
2. Plan
Together we craft a customized travel journey based around your individual goals and comfort level, and fill it with opportunities to explore, learn, connect, and grow.
3. Prepare
We help you get ready mentally, physically, and emotionally with personalized pre-trip activities, a one-of-a-kind travel journal that guides you with daily prompts from the travel planning phase to your return home, detailed destination guides, and a 200-page, Ultimate Guide to Authentic Travel.
4. Connect
We connect you with friendly and passionate locals who are eager to share with you their way of life, providing exciting perspectives, unforgettable memories, and forging new friendships along the way.
5. Experience
Whether you're idea of adventure is riding camels in the Moroccan Sahara desert or road tripping through the American West, we'll help you fully-immerse yourself in transformative experiences that hit that perfect sweet spot—thrilling and challenging but also insightful and inspiring.
6. Grow
By confronting fears, overcoming obstacles, and encountering novel ideas, you develop new and powerful ways of looking at the world and life itself, all the while getting to know your authentic self.
7. Reflect
We aid you through the process of reflection and reconciliation, allowing you put what you've seen and done into context and successfully transition from life on the road to that at home.
8. Apply
It can be easy to fall back into old habits and ways of thinking when you get home. We help you ensure that the lessons you learned on your journey become long-term, life-enhancing changes by offering personalized guidance and connecting you to our global network of authentic travelers.
9. Share Wisdom
With great power comes great responsibility. Not everyone is able to travel the world . We help you to share what you've learned with your community, bring about positive change in the lives of the people you love and live around.
---
Would you like a little guidance as you begin your journey towards better travel?
We're here to help.
Authentic Traveling is proud to offer eager adventurers like yourself with a variety of services aimed at turning your next trip into the exceptional travel experience you deserve. FIND OUT MORE ABOUT HOW WE CAN HELP YOU.