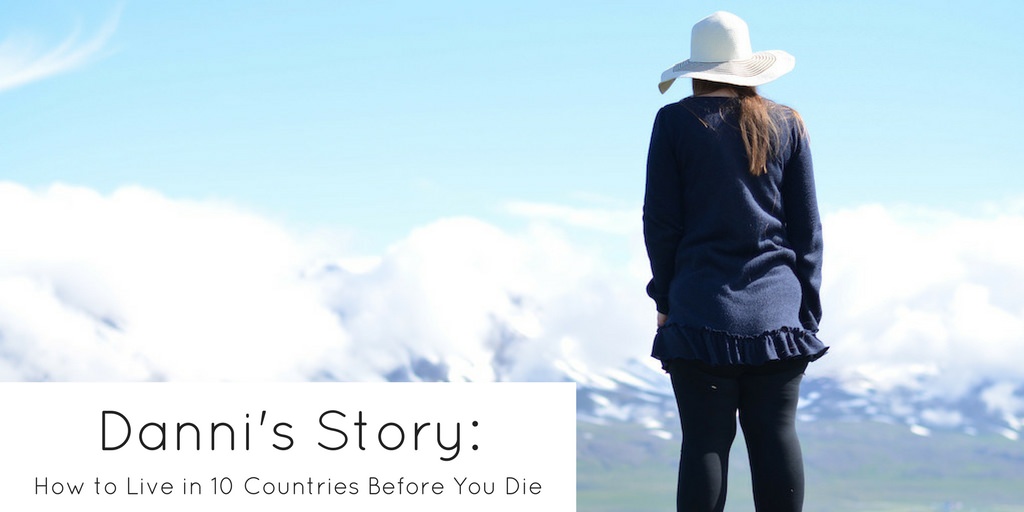 Part of the series The Journey Within: Stories of Personal Growth Through Travel
Danni is the opposite of most people. At the age of eighteen she left small-town England to embark on a journey that led her to live in eight different countries and found the motivational website LiveIn10Countries.com.
The name of your blog is something that immediately appealed to me and I think it will intrigue a lot of my readers as well. Could you please share with us how the title Live in 10 Countries came about, and also give us a little bit of a background story as to how you found yourself where you are today?
Thanks for asking, it's a pleasure to be here. Well, the title is a pretty fast summation of my mad bucket list goal to—you guessed it—manage to live in 10 different countries around the world and ideally tell my grandkids about it when I'm 90 and have a blue rinse. I know 10 seems like an arbitrary number and it is, but I just went into with a craving to experience as much as possible and maybe when I hit 10 I can raise the number, so why not?
Just after my 18th birthday I decided to take a TEFL course and flooked into a teaching job in Peru because I was intensely curious to experience a world outside my tiny English village. I was so scared at the time I had a little cry at Heathrow, but of course living in Peru was incredible.
That was the start of the challenge and, apart from my degree in the UK, I spent the rest of my 20s moving through seven other countries and working. Nannying in a part of Iceland inaccessible by road; sleeping in a haunted castle and working for the European Union in the Czech Republic; private tutoring among the orange trees in Sevilla; freelance writing and online reviews from Paris while overdosing on macaroons and spending hours in old bookshops; training street children from the dizzying heights of La Paz and the list goes on. My last country was Australia where I stayed for 2 years and loved the vibe of Melbourne, but it's time to move on now and look for country number 9.
The blog started because I realized a lot of people don't think living abroad is accessible to them, mostly because of cost, and I wanted to show that it's possible to find work abroad plus give realistic details about things like visas to inspire others.
I think you're right in that a lot of people believe that living—or even extended traveling—abroad is not a possibility. But whereas others just bemoan this fact, you left home at age eighteen to try and make this dream a reality.
You mentioned that wanting to experience the world outside your tiny English village was one of the factors that first led you to travel abroad. Where did this desire to explore the world come from? Had you traveled abroad earlier in life? How did this motivation help you to overcome the fear that you felt as you boarded your flight to Peru from Heathrow?
Yes I was always nuts about travel—my grandmother has always lived in Spain and so we would annually visit her by plane, even before I could crawl.  I think overcoming the fear of living abroad is easier if you have a goal wherever you go—whether making a few international friends, learning the language or starting a new job it will give you a boost to achieve.
Definitely another factor pushing me to go traveling was a fear of missing out on opportunities to live abroad—basically FOMO. Moving around continental Europe without borders was so much fun, I wanted to experience the right to live and work wherever I wanted before the Brexit or collapse of the EU might take it away- when I lived in the Czech Republic we used to wander over to Poland for shopping most days, or take a bus to Austria, and that was true freedom to me.
There are also a series of working holiday visas in countries (Canada, New Zealand, etc.) which can only be taken before you hit 31 and have so much less red tape than other visas- they are fabulously accessible. I knew I had to try one before I got above the date cut off, and I've written a guide to getting the best from the Australian working holiday visa.
It sounds like you've taken full advantage of the current political situation to explore Europe on your own time—something of which many Americans, including myself, will certainly be envious! What have been the biggest challenges you've faced since beginning your journey eight countries ago?
I hear Americans can live in Canada rather easily though. If so, consider me jealous!
By far the biggest literal and physical challenge was when I moved to Bolivia in the late 2000s. Honestly, I was very foolhardy as I knew the political situation was very volatile but decided to go ahead and assume things would even out. Within 2 months my insurance would not cover further stay and most major airlines were no longer flying out of the country, plus of course the very real disruption for anyone in the affected cities- my heart goes out to the Bolivian people at that time. The centre where I was working declared it was unsafe to continue so I was stranded and began camping out at the airline office trying to snatch a seat on an exit plane. That being said, had I planned my trip better living in Bolivia would have been amazing and I wholeheartedly recommend it—I wrote a guide to living in Bolivia.
The biggest mental challenge is certainly missing loved ones back home and tackling the fear of not being able to pay the week's rent. I Skype family religiously once a week wherever I am, and I have a pen pal in Scotland to whom I write physical letters and send parcels—she is a strong friend wherever I am in the world.I always always make it home for Christmas too—including last year when I flew from Australia to London, because it means the world to me.
It sounds like you've faced a number of challenges. What have you learned from overcoming these?
It's such a cliche, I know, but travel honestly broadens the mind. I think overcoming the day to day challenges help us learn about ourselves and also have a far clearer appreciation for other cultures- and that goes for anyone who travels! It's far harder to carry around misconceptions about other nations once you've spent a year or even a few weeks in their shoes.
What advice would you have for readers looking to follow in your footsteps? Do you have a few actionable steps they could start with?
In terms of actionable steps, a lot of it would be country or location-specific such as How to Move to London with No Job but in more general terms an easy first step is to work in exchange for accommodation and food in your new country. I've often used the site HelpX.net to find positions easily and get started abroad. Wherever you are, join Couchsurfing community meetups as these are a hotspot for swapping ideas and tips with other travelers, plus they are free and fun. I would never have seen the northern lights, for example, without tip offs from couchsurfers in Reykjavik.
[I'd advice you to] find other people with similar goals and open-mindedness about long term travel! It could be simple as googling or joining a Facebook group. A few years ago I joined a goal-sharing website called 43Things (sadly now closed) and it was through a random post there that I heard about the EU's long term volunteering program.
Danni is a small town girl on a mission to break out and live in 10 countries before she dies, ideally taking everyone with her. Follow her journey or take your own first step by visiting LiveIn10Countries.com. Tweet your experiences to her on Twitter, or pin ideas for your dream destination on her Pinterest.
Part of the series The Journey Within: Stories of Personal Growth Through Travel