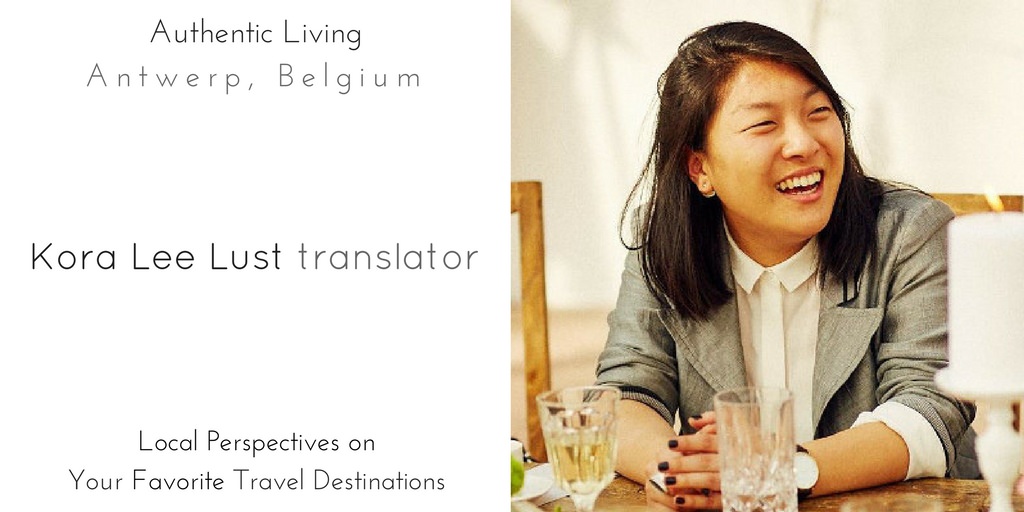 Part of the ongoing series: Authentic Living
Kora Lee is the perfect embodiment of Antwerp; international, sophisticated, and hip. I recently chatted with her about life in the city she calls home.
Hey, Kora Lee, it's great to talk with you today. For how long have you been living in Antwerp?
I've been living in Antwerp for 8 years. I grew up just outside Bruges, but I moved here for college, then got a job near Brussels, but have been here ever since. Once you've lived in a bigger city, it's hard to go back to a smaller town—life's just better here.
Why is life better in Antwerp?
Well, I should clarify—I mean it's better for me twenty-somethings like myself. The atmosphere is really dynamic. No matter the time or day there's always lots to do. Antwerp is a trendy city filled with young, interesting people. Growing up, in a conservative small town, I was told Antwerp was dangerous and full of crazy people. This couldn't be further from the truth. Well, OK, maybe there are a few crazies. 
In contrast, Bruges is much smaller, and it's population is mostly older generations or families with young children. While it's a nice place to live, it'd be tough for me to move back right now.
How does Antwerp compare to the rest of Belgium?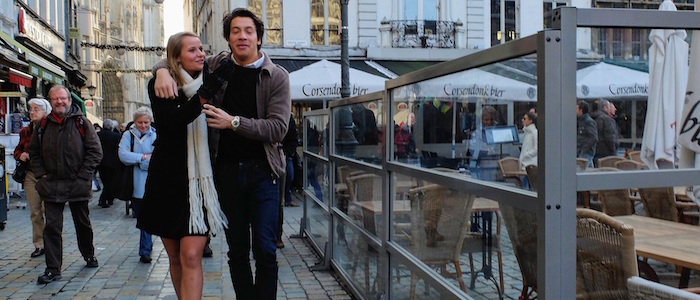 Antwerp is by far the hippest, trendiest city in Belgium. We've got all sorts of exciting new restaurants, bars, and shops—things you don't see to the same degree in other parts of Belgium. There's a genuine cosmopolitan vibe here. At the same time, Antwerp doesn't feel as big Brussels, which is more of an international business hub than a place to live. We have major industry—a huge port and, of course, our diamond district—but it doesn't feel as overwhelming. You can live here comfortably.
Tell me a little bit about these trendy new spots.
Recently the city has been leasing out vacant buildings to people who want to build things like temporary restaurants, cafes, or art galleries. These leases are for a couple years, so a little bit longer than a pop-up restaurant. And since they are only temporary, there's a bit more willingness on the part of the owners and operators to try new things and take risks.
Right now the Antwerp Tower [Van Ertbornstraat 10] is housing an awesome bar called Bar Gloed and a nice club called Klub Goud. You should check them out before they are gone! Another place worth visiting is the Mercado [Groenplaats 43]. Located in the old post office building, it houses a bunch of food stalls where you can get anything from mozzarella to dim sum to fried chicken. It's open Wednesday to Monday, 11AM to 10 PM.
Sounds like there are a lot of interesting food options in Antwerp above french fries and waffles. Where would you recommend someone go if they wanted to eat like a local?
If you're looking for something traditional, I suggest two restaurants. The first, Gulden Swaene [Hendrik Conscienceplein 15], serves typical Flemish dishes, including tomato soup with meatballs, stoofvless [beef stew], and chicken stew in a puff pastry cup. The second, Dansing Chocola [Kloosterstraat 159], has a somewhat-cheesy Parisian interior but the food there is excellent. In particular, the stoemp—a kind of potato purée with other vegetables—is worth trying.
Late at night, I recommend heading to a Frietkot—they may look shabby, but I swear the food will be delicious!—where you grab a hamburger, fries, or bitterballen [meat croquettes]. While it's not on the menu, ask for a kapsalon [which directly translates to hair salon], a plate of grilled meat, cheese, french fries, and salad. Sure, it's not health food, but you're on vacation!
And what about drinking like a local?
We have a lot of nice cocktail bars here in Antwerp. There is one called Dogma [Van Ertbornstraat 10] which has a speak-easy vibe. The man who owns it is a self-taught bartender who specializes in eclectic cocktails—think bacon and whiskey cocktails.
Another good option is Sips [Gillisplaats 8]. The bartender there is quite famous, having had his own Belgian tv show about cocktail making. Word has it he owns an old book of cocktail recipes and hosts special nights every once in a while where he only offers these. You definitely need a reservation there, as it's very popular and there's limited space.
Belgium is famous around the world for its beers—any recommendations? 
I'm not a huge beer drinker, but my personal favorite is Rochefort 8, a Trappist-style beer from Namur, Belgium. It's a refreshing beer with an aftertaste of orange blossom. If you're looking for something made in Antwerp, try De Koninck's Bolleke—that's 'Bolleke Keuning in Antwerp's dialect—a slightly hoppy beer with a hint of cinnamon. If you're here in the winter, you should go directly to the brewery [Mechelsesteenweg 291], where they have an outdoor beer garden complete with pizzas made in wood-burning ovens and s'mores. And of course, the most popular Belgian beer is Duvel, although I don't think it's very good.
Eating and drinking all day sounds tempting, but I'm sure some visitors don't want to come home with liver failure and an extra 50 kilos. What are some must-see sights in Antwerp?
Everyone should visit the Cathedral of Our Lady [Onze-Lieve-Vrouwekathedraal], a UNESCO World Heritage Site. Inside are a number of masterpieces by Peter Paul Rubens, including The Elevation of the Cross. The Church of Saint Carolus Borromeus [Sint-Carolus Borromeuskerk] has a beautiful baroque interior. 
The Plantin-Moretus Museum [Plantin-Moretusmuseum] is another must-visit. Dedicated to the works of the 16th-century printers Christophe Plantin and Jan Moretus, it was recently renovated and is the only museum in Antwerp with three stars in the Michelin guidebooks.
I also really enjoy the MAS Museum [Museum aan de Stroom]. Inside are a series of worthwhile exhibitions focussing on the history of Antwerp's port and people. However, the real star of the museum is the building itself. Some people think it looks like a stack of Lego bricks, but I find it beautiful. My friends might hate me for giving away this local secret, but MAS' rooftop terrace provides an incredible panoramic view of the city.
Finally, if you're in Antwerp on a Sunday, I recommend heading to Kloosterstraat to grab brunch and check out the antique shops.
Where should someone stay in Antwerp to live like a local? 
AirBnB is the best option for sure. Not only will it save you money, but it's the only way to stay in the hipper neighborhoods where there are not hostels or hotels. If you're on a budget, book in Zurenborg, an up-and-coming neighborhood with easy transport to the city center. If you have a bit more money to spend, the hippest area in town is 't Zuid.
The terror attacks of 2016 and the Syrian refugee crisis has kept Belgium in the news regularly. How have these two things affected life in Antwerp?
To be honest, neither has affected my life here that much. Yes, there are more troops and police around, but you get used to it. Some people say that the spirit of the city has changed—I don't see it.
A number of young people living here did travel to Syria to fight. At first, the locals thought it was a good thing—we figured it was good for today's youth to fight for independence—but then we learned they had joined ISIS and we changed our minds.
I don't think the city is particularly scared. We have to live our lives. You can't avoid coming out of your house because you're afraid of bad things.
As for the refuges, Antwerp was already an incredibly diverse place—fun fact: more languages are spoken here than anywhere else in the world—so I don't think the face of the city is any different. Perhaps the changes have been more dramatic near the border with France.
It's nice to hear that sentiment; you cannot let fear control your life. What kind of future do you see for Antwerp?
I think Antwerp will continue to be an incredibly diverse city, with people from all ethnic and religious backgrounds calling it home. I also think that we will continue to get more boutique cafes, shops, and bars. Antwerp is a great place to live and I'm hopeful this will be true in the future.