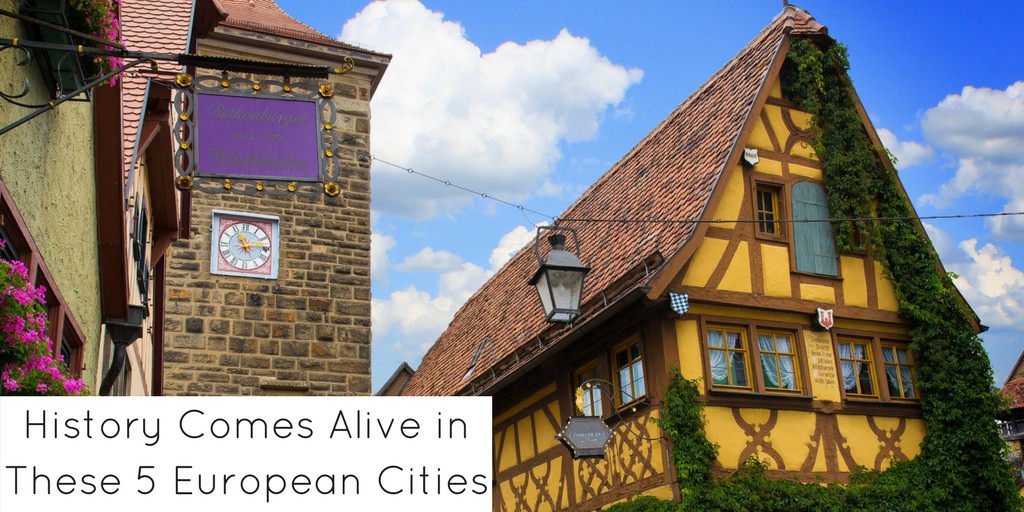 Few parts of the world pack as much history into a small area as Europe. Unfortunately, many visitors to the Continent spend their time in overly-touristic areas where globalization and modernization have wiped away most remnants of the past. Here are 5 European cities to visit that have not only retained their charm, but where history comes alive!
Bruges, Beligum
While it has long since ceased to be an important commercial center, Bruges is now one of Europe's most charming and well-preserved cities. As much open-air museum as modern metropolis, visitors enter a place where time seems to have stood still. It's cobblestone streets are lined with picturesque homes that look much like they did when they were built 600 years ago. A series of canals, on which swans peacefully float, wind through the city.
In the 15th century, Bruges was a busy trading hub, filled with bankers and merchants from Italy, Spain, England, and Scandinavia. As a result, its citizenry grew incredibly wealthy, and they decorated their homes and churches with luxury goods and artwork from the period's most important artists. For instance, a beautiful sculpture of the Madonna and Child by Michelangelo serves as the altarpiece for a side chapel in the Onze-Lieve-Vruowekerk (Church of Our Lady). Other artistic treasures, including Hieronymus Bosch's The Last Judgement and Jan van Eyck's Virgin and Child with Canon van Paele are held in the must-see Groeningemuseum.
Yet, the main highlight of any visit to Bruges is the city itself. At night, stroll through its perfectly illuminated central square, the Burg. Sample a local favorite—moules-frites (mussels and fries)— in a neighborhood bistro. Watch as older women, dressed in traditional Belgian clothes, knit lace at street-side tables. Everything seems perfect, and nothing seems out of place.
Matera, Italy
With settlements dating all the way back to the Paleolithic era, even pre- history comes alive in Matera. This small, south Italian hillside village is home to a series of hermitages, churches, monasteries, and houses dug into natural caves, known as sassi (they recall the Etruscan tumulae at Cerveteri—see here for more information). For over 9,000 years, the people of Matera have lived in these primitive shelters, which until recently lacked running water, electricity, or sewage systems. Considering the sassi a health hazard, the Italian government forcefully relocated their inhabitants in the 1950s. Since then, industrious locals have renovated many of the structures, turning them into hotels, apartments, and shops.
Exploring Matera's sassi is an experience that doesn't quite seem real. The buildings climb up and down hills, stacked upon one another. Crooked stairways and narrow alleys link the structures, with rooftops often serving as streets. Dead end courtyards abound. If you didn't know better, you'd assume it had been designed by M.C. Escher.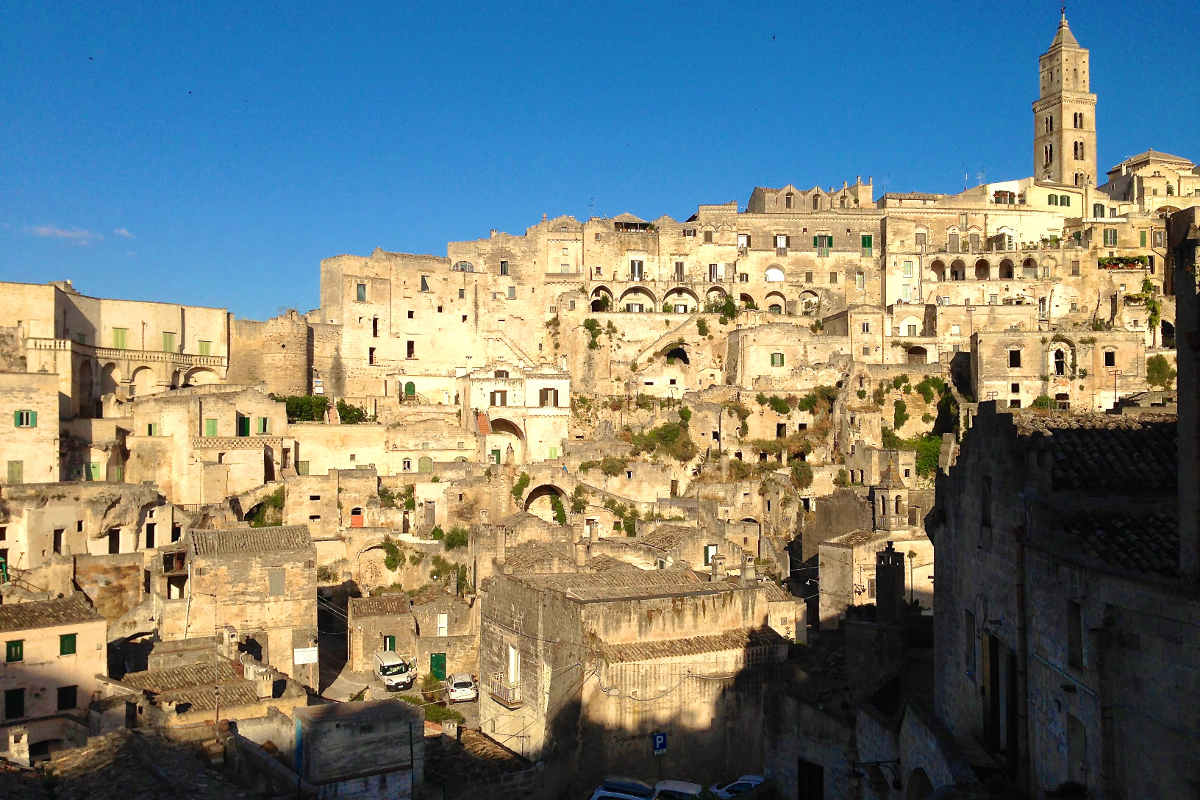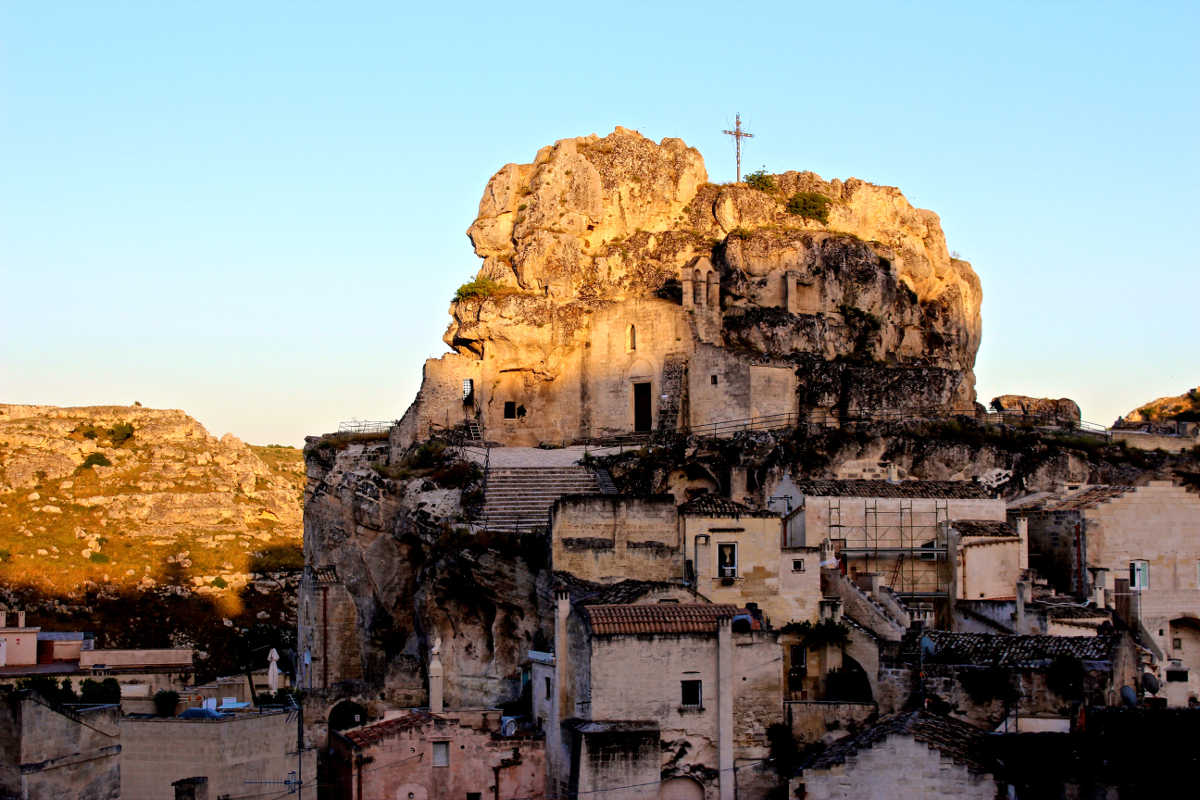 Hiking through this labyrinth of stone, it's easy to feel as though you've wandered into the past. This is the magic of Matera. Hollywood has recognized this as well. A number of biblical-era films were filmed here, including The Passion of the Christ and The Gospel According to Saint Matthew.
Wittenberg (Wittenberg Lutherstadt), Germany
Located just an hour train ride from Berlin, Wittenberg provides visitors with an up-close look at one of the most important religious movements in European history—the Protestant Reformation. It was here in 1517 that Martin Luther wrote his famed 95 Theses—a document outlining his opposition to practices within the Catholic Church that he saw as corrupt— to the door of the Schlosskirche (Palace Church).
Although Luther had only intended the Theses to begin a debate among academics, it inspired a widespread religious revolution. Within a few years, much of the surrounding area began practicing a new form of Christianity, known as Lutheranism, with the Stadtkirche Wittenberg serving as the site of the first Lutheran congregation. The church contains a monumental altarpiece by Lucas Cranach the Elder. On the back corner of the church is a stone sculpture, known as the Judensau, depicting a rabbi lifting a sow's tail while other jews drink from its teats. Created in 1305, this example of medieval anti-Jewish propaganda serves as a chilling reminder of Germany's troubled history with Judaism.
Near Wittenberg's train station is the Lutherhaus Museum, where Luther spent the latter years of his life. It's collections include the original pulpit from the Stadtkirche, Luther's monk habit, and several paintings by Lucas Cranach the Elder.
If you're interested in experiencing Wittenberg's more modern history, you should stop by the Haus der Geschichte (House of History). Here, visitors can explore a series of rooms documenting life in Wittenberg during Germany's socialist period, between the end of World War II and German Reunification in 1990. You'll be amazed at how many items can be made of plastic, including clothes! Be sure to check out the replica grocery store, where you can see first hand the limited selection of items available under the socialist government.
 Delphi, Greece
OK, this isn't quite a city, but I had to mention it. Delphi is without a doubt, one of the most atmospheric locations in Europe, and certainly a place where history comes alive. For much of antiquity, it was home to the most important oracle in Greece—that of the god Apollo. Thousands of pilgrims traveled from throughout the Mediterranean, carrying questions inscribed on stone tablets. These were presented to a priestess, known as the Pythia, who sat in a cave within Apollo's temple. She would then deliver incomprehensible and cryptic responses—most likely the result of breathing in vapors escaping from a fissure in the ground—which were interpreted by the temple's priests. Countless wars were won and lost following the advice dolled out here.
In many ways, visiting Delphi today is a recreation of these ancient pilgrimages. To get there, you have to navigate winding, mountainside roads that takes you far from the bustle of modern Greek cities and into a world where anything—even prophesy—seems possible. Delphi's ruins snake up a rocky hillside, the top of which is often obscured by fog.
Delphi's theater and stadium, both with a capacity of over 5,000, speak to the site's historical importance. There were built for the Pythian Games, a predecessor to the modern Olympics that also included artistic competitions and chariot races. Victors in these games would often erect structures or leave artwork to commemorate their success. One such item is a statue of a charioteer, arguably the most impressive bronze statue surviving from antiquity, found in the Delphi Archaeological Museum.
Rothenburg ob der Tauber, Germany
Not to be confused with one of the many similarly-named locals in Germany, Rothenburg ob der Tauber is one of the best-preserved medieval walled towns in all of Europe. Part of the so-called Romantic Road in southern Germany, it has recently become a popular tourist destination, attracting thousands of visitors daily. Don't let the crowds deter you from visiting, however. Climbing Rothenburg's massive city walls you awaken a period of history when your personal safety was only as good as your city's defenses.
Spend the night to best appreciate Rothenburg's fairy tale charm—and to avoid the hordes of day-trippers. After the sun sets, stroll through its peaceful cobblestone alleyways, lined with half-timber houses, the windows of which overflow with flowers. Or, for a more curated experience, join the highly-entertaining Night Watchman's Tour.
During the day, check out the Mittelalterliches Kriminalmuseum (Medieval Crime and Justice Museum) for a grim reminder of how brutal the past could be. Arguably the best museum of its kind, the collection contains exhibits on torture, witchcraft, execution, criminal trials, and public humiliation, which you'll either find exhilarating or horrifying.
The nearby Stadtkirche St. Jakob (Church of St. Jacob) houses an altarpiece by Tilman Riemenschneider, one of the greatest works of woodcarving produced in medieval Germany. As you gaze upon its intricately carved and highly-expressive figures, remember that such imagery was the primary way to bring biblical stories to life, as few people could understand the Latin mass or read scripture.
As you can see, a visit to Europe doesn't have to mean spending your time in overly-touristic areas scrubbed of their past. Visit these 5 cities where history comes alive, and you won't be disappointed.
Have you traveled to any of these cities? What was your experience like? Do you have any other recommendations of places to visit where history comes alive?