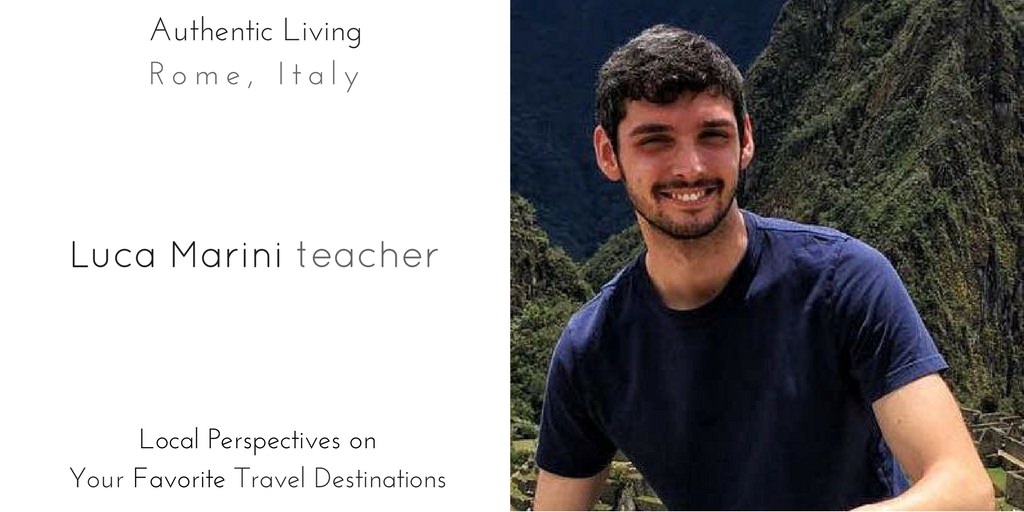 Part of the ongoing series: Authentic Living
Coming from a long line of Romans, Luca is the perfect person to speak with when looking for advice on the Eternal City. I caught up with him over Skype recently.
Hey, Luca, it's great talking with you today. So you're originally from Rome, yes?
I am! I grew up in Rome, in the area known as Montesacro, close to Via Nomentana. My family has been living in Rome for many generations. I spent most of my life in Rome, except some periods I spent abroad to learn new cultures and languages.
Wow, you and your family are about as Roman as it gets then! When you think of your hometown, what comes to mind?
The first thing that comes to my mind when I think of Rome is the beauty of the places that have been the background of my adolescence. I imagine myself walking in Villa Ada or Villa Borghese—two amazing huge gardens in the center of Rome. 
How does Rome compare to the rest of Italy?
In Italy every community—even a small village—has his own identity. I could talk for hours about the difference between Rome and some big cities in the north or the south of Italy, but the biggest thing that distinguishes Rome from the rest of Italy is its ancient atmosphere; the sense of the past that surroundings and fills its boulevards, streets, and alleys.
Yet, this atmosphere also hurts Rome. While beautiful, it is stuck in the past and resistant to change. Yes, we want to preserve our heritage, but we should also be able to adapt to the modern world's needs. For instance, there is a big demand for bicycling lanes here, but the city hasn't adjusted the streets yet to accommodate this, something that wouldn't be hard to do.
What is your favorite thing to do in Rome? What should people avoid?
I like to visit Rome's museums and churches. It is really charming to spend a late night just wandering the city's largely-abandoned streets, or – when I am in Rome in the right period – visiting the museums during one of the special evenings when admission is free. On the other hand, I would never go to visit place that haven't nothing to do with Rome like MAXXI, the museum of 21st-century art.
Italy is famous around the world for its food—what are some must-eat dishes in Rome?
That's simple: you've got to try pasta alla carbonara [noodles—usually spaghetti—covered in a sauce of eggs, pancetta, Parmigiano-Reggiano, and black pepper] and coratella di agnello ai carcioffi [a mixture of lamb liver, lungs, and heart served with artichokes]. Both are traditional peasant dishes and very, very Roman! 
What are some good bars/clubs to go to in Rome?
I'll start with bars. Visitors should check out BlackMarket [Via Panisperna 101] which has a cozy, hipster feel. I'd also recommend C1BO [Viale Tirreno 2]. I myself stopped going to clubs a while ago, but Testaccio and Piramide are probably the best areas to head to for late-night partying. 
What would you recommend people do in Rome to experience the city the way locals do?
Well, I'd check out the restaurants I suggested above, but I'd also grab a cocktail or a beer in Piazza Trilussa, on the banks of the Tiber.  This is THE place for locals to go during a warm summer night.
Where would you suggest people stay in Rome?
The public transportation in Rome isn't great—every time they try to add to the subway system, they run into a new archaeological site—so it's best to find a place near the center of town, perhaps by the Colosseum, so you can go on foot to most of the sites. I'd suggest AirBnB for the best deals.
You spoken glowingly about your hometown, yet I'd be remiss if I didn't mention that don't live in Rome right now. Many foreigners consider Italy a paradise for food, art, and culture, and they will probably wonder why you would ever leave there! So why'd you leave?
Haha, you caught me! Right now I'm living in Lima, Perù, where I teach history and philosophy at a private college. I came here because I thought it would be fun to gain some international working experience. But I can't wait to get back to the city and country that I love!